Introduction
The WH-CP-03 type electric cutting and punching machine is a device for cutting and punching PDMS independently developed by Wenhao Co., Ltd. The device is controlled by the film button to control the height of the push rod motor, and the punching machine is installed on the push rod motor. Hole needles and cutting blades enable vertical drilling and cutting of soft chips such as PDMS. This product has the characteristics of labor saving, convenient operation, excellent punching and cutting effects.
Technical Parameter
Needle outer diameter specifications: 0.7/0.8/0.9/1.07/1.26/1.47/1.66/1.8/2.1/2.4/2.8/3.0/3.45/4mm;
Thickness range of needle punching: <13mm;
Blade cutting size range: 100*100mm;
Blade cutting thickness range: <10mm;
Dimensions: 200(L)*218(W)*270(H)mm;
Weight: 4kg;
Working environment: temperature 0℃-40 ℃, relative humidity <80%.
Feature Diagram
(1) Punch button (move up);
(2) Cutting button (move up);
(3) Punch button (move down);
(4) Cutting button (move down);
(5) Circuit box; (6) Handle;
(7) Punching needle; (8) Cutting blade;
(9) Power switch; (10) Power socket;
(11) Cutting mat.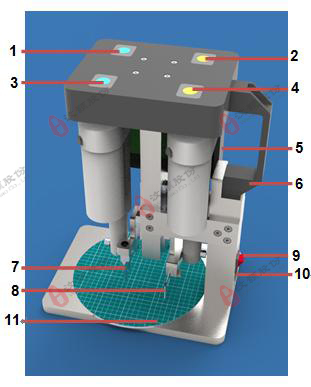 Place and install
(1) This equipment should be placed on a stable horizontal operating platform, and the equipment should be in a stable state.
(2) This equipment should be used in a clean environment with ventilation, dryness, no corrosive gas, and no large amount of dust. Keep away from high temperature and steam, and avoid exposure to direct sunlight.
Steps
(1) Punching: After installing the punching needle of the required size, press the punch button to adjust the punching needle to the appropriate position, align the punching position, and match the size line on the cutting mat, press the punching button to complete Punch.
(2) Cutting: After installing the cutting blade, use the cutting button to adjust the blade to the appropriate position and align the chip cutting line. At the same time, press the cutting button to complete the cutting according to the size line on the cutting pad.