With this Microfluidic Connect chipholder, tubing and ferrules you have an ideal platform to load and seal your microfluidic droplet chips. In order to prevent a possible blockage of the channels the inline filters can be placed between the PTFE tubing.For optimal system stability we recommend the use of a suitable high-end pump system. Low-costs syringe pumps typically create a lot of pulsations in the system causing instabilities.
Microdroplet Microfluidic Chips:
Wenhao Co.,LTD is dedicated to providing microfluid-related products and services for the generation of microfluidics, providing complete solution control.
Single emulsion standard chips and fixtures
Due to the thermodynamic instability, the integration of droplets has become the bottleneck restricting its application. In order to avoid droplet fusion, Wenchuan Co., Ltd. has developed a standard droplet generating chip and cross-section jig. The standard chip structure includes a T-tube and a convergent tube with inlet-side inlets and outlets. The chip size is optional, or use a custom processing method. Cross-section clamps with a washer construction, pressure and chip side connections via liquid inlet and outlet, liquid input and micro droplet output, prevent droplet vertical input and output due to fusion problems. The use of chips and fixtures has the following advantages:
1.Chip structure and size of any choice;
2.Chip shape length 22.5-120.0mm variable, higher integration;
3.Lighting up to 8 solutions can be configured to import and export to meet the needs of complex experiments;
4.With pressure-resistant fixture and chip, can reach more than 30bar;
5.Fixture and chip cooperation, small dead volume.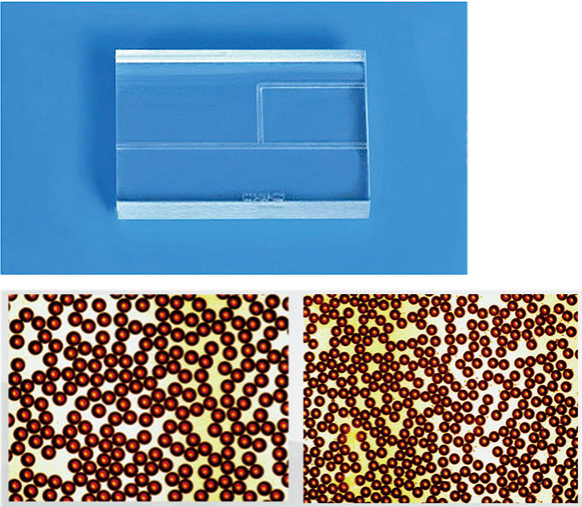 Single emulsion microscope photograph